Images of New Holland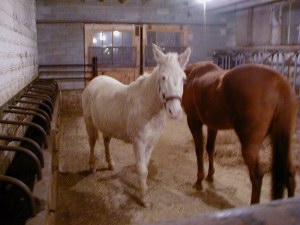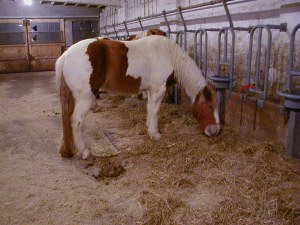 Draft paint colt at New Holland January 2001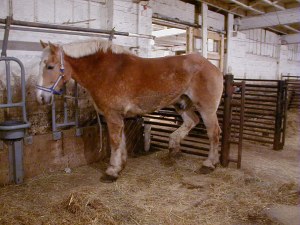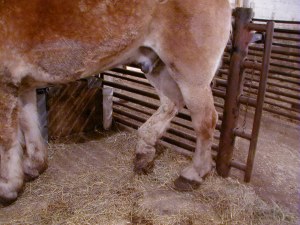 Belgian gelding at New Holland, not bearing weight on hind rear, sold through the ring for $725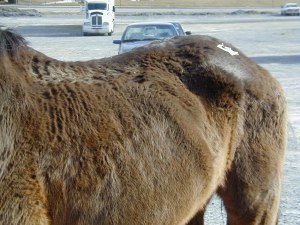 This mare was sold at New Holland and according to the seller had STRANGLES!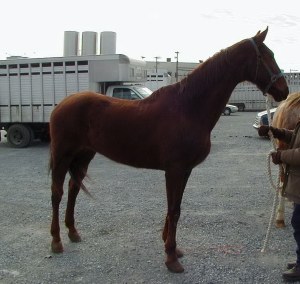 Gaited Saddlebred gelding, 16.2 hands and sound, $485 kept him from the killers in February 2001. He showed signs of lameness going through the ring, because rocks were embedded in his feet. One farrier visit fixed his problem. So much for Amish being excellent horsemen....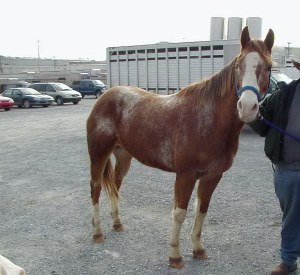 Gorgeous horse bought out of kill pen, later vetted and diagnosed with EPM. He's since been adopted out into a good home.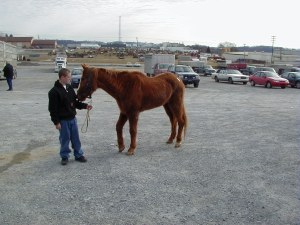 30 year old horse, sold for $15 at New Holland in February 2001. ERR and Lost-and-Found Rescue worked together to save this horse, and Second Chance Ranch in NJ gave him a new, permanent, and loving home.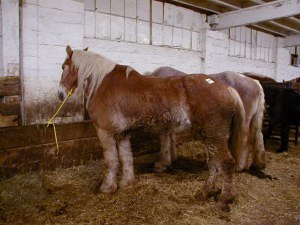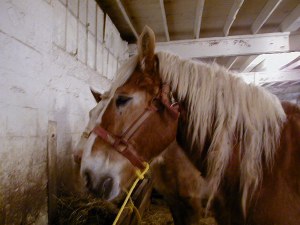 January 2001. This belgian is 19 years old, blind in his left eye, thin, weak and had swollen knees. He worked hard for his Amish owners, and being sold in New Holland for meat is the thanks he gets. The ERR, along with Double D Equine Rescue and Lost-and-Found Rescue, worked to get this gentle giant to safety. Thanks to the Excellor Fund, he is now happily retired at EPONA in NH. Special thanks to Barbara at the Excellor Fund for making this a happy ending for "Tiny", who they know call "No Small Wonder" or "Stevie".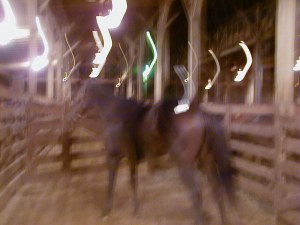 <This link's target cannot be found>. Blind thoroughbred waiting his turn in the sale ring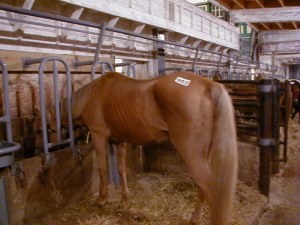 Emaciated Palomino with elevated respiration and heart rate.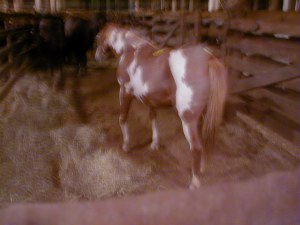 Front legs bow outwards at the knees. The horse was hobbling and in obvious discomfort. He has a slaughter only tag on and was NOT run through the sale ring. He was hidden away in a pen with several other horses, waiting to take their last ride. You have to wonder...when he arrived at the slaughterhouse, was he still standing.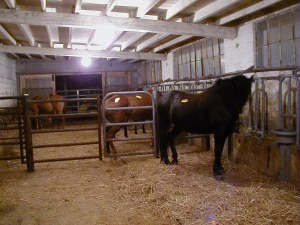 Horses brought in from MD to New Holland, with MD auction tags on hips, kill only tags on the backs.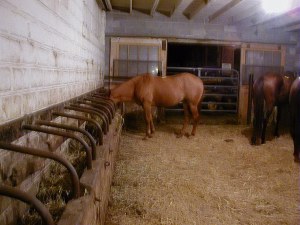 This horse appeared to be blind in one eye. Bought at MD sale, transported to a PA sale.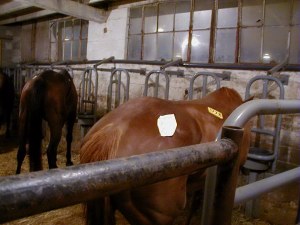 Close photo showing placements of tags, sales tags on hip, kill tags on back.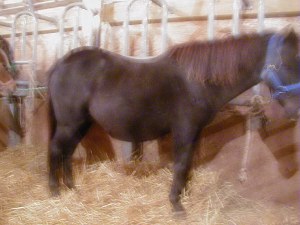 Pregnant pony mare at New Holland in September. Later that morning, a sick and sedated mini stud was tied only a few feet away, along with several other ponies.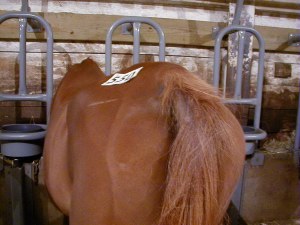 Underweight and unfit horse offered for sale in New Holland during September sale.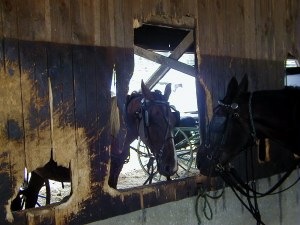 This was the shelter provided by a New Holland auction for it's customer's buggy horses.
Tack auction begins at 8:00 a.m. Horse auction begins at 10:00 a.m. The auction ends sometimes as late as 3:00 p.m. No hay, water or safe shelter is provided at any time. UPDATE! Months after this picture was posted the auction replaced the walls of this shed. Still no food or water though.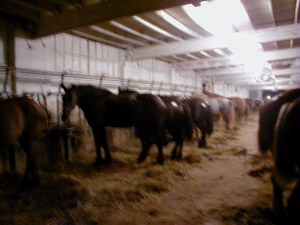 Horses waiting for numerous hours for sale to start at a New Holland auction house, with no water.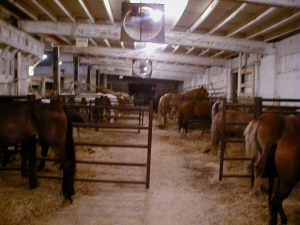 More Horses waiting for hours prior to a New Holland sale - with no water.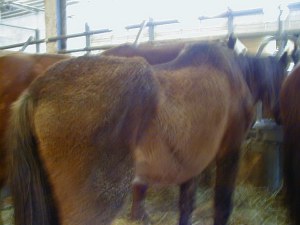 Emaciated horse offered for sale at a New Holland auction. Blood was found in this horse's manure.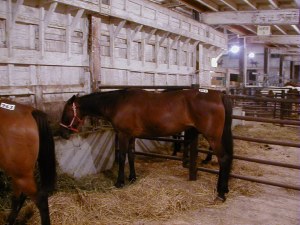 The picture does not clearly indicate the low weight of this bay horse, who was also brought in many hours prior to the sale and tied without water.
Pony mare was hauled into auction and tied without water. Watering mechanism is on every other section, but she's not tied to one, and they do not work. She was left for at least 12 hours in this condition.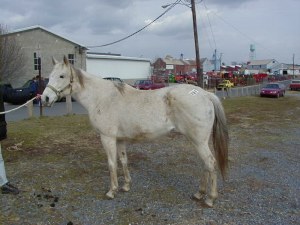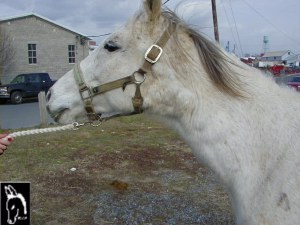 This mare with melanoma tumors on her neck came with a coggins that did not match her, from New Holland.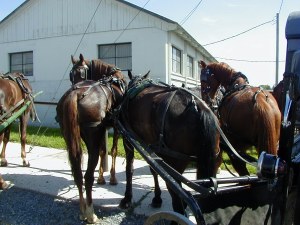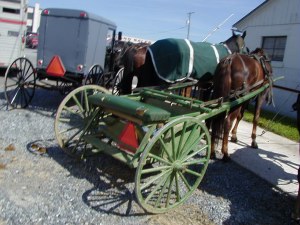 Amish buggy horses forced to stand for hours without water while their owners attend the auction.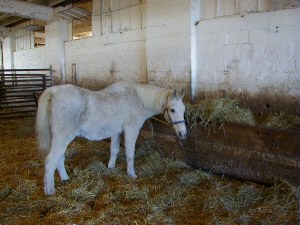 Old gelding waiting to be picked up by a rescue at the end of the day.
The RESCUE put the hay in front of him.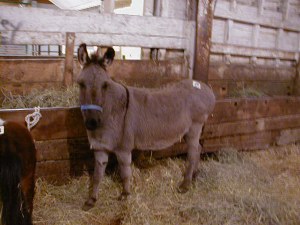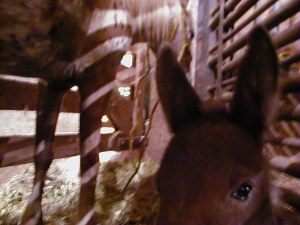 Pony mare and foal in a pen smaller than a straight stall at a New Holland sale. Actual width can be determined by looking at the mare's head and the walls to the left and right at that point.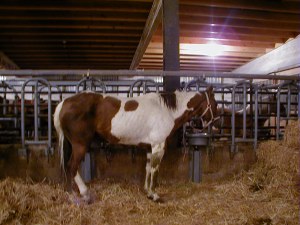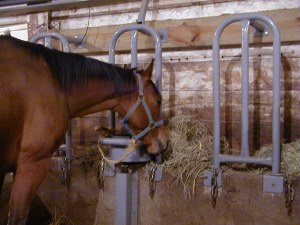 This thoroughbred was heavily sedated.
Pictures are added periodically.
For updates specifically on this photo page only:

Back to Photos